REVIEW BY 2 CUSTOMERS
Country Joe McDonald @ The Greys, Brighton, Monday 28th March 2005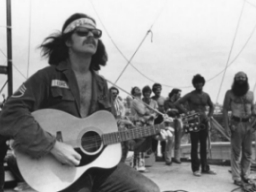 '...where country joe will do his show and he'd sing about...'

well, about two hours of songs and tales, actually... a living legend in our local pub, the greys brighton, tonight. one of only 4 dates in uk. still living in berkeley, california. still true to himself. but himself has changed over the years. not knocking it - we all change. mellow / straighten out / get reactionary... whatever, we all do it as our life unfolds.
joe is, after all, an ordinary joe, as well as being a legend. he's what i find really, really likeable in americans and, please, this isn't meant as some patronising codswallop - whatever their political viewpoint, however much they feel they've been shafted by the political process over the decades, wherever or whenever they've discovered and formed their own theology, regardless of their views on their own youth of yesterday and the youth of today ... they're proud to be american, and that's quite a beguiling trait.
joe hasn't lost his sense of seeking a loving, caring world. nor his desire to question the decisions of politicians. it's within the context of being an american. a participating american. not a drop out. still involved with veteran organisations. still thinks tha whole warmongering thing is wrong.
a nice bloke. joe sang in a voice more fragile, but more lived in than of yore.
his guitar instrumentals - 'section 43' included (oh me, oh my!) - and stories (the ed sullivan show banning and the massachusetts court case were still funny) added fine extra touches.
i suppose you don't need a pubfull of people to shout 'fuck!' for your evening's entertainment.
but it was fun.
and joe still does it.
and that's got to make the world a better place.
he's back with the full band (incl. many an original fish) in august - @ cropredy, too @ the fairport convention weekend.
that was a fun night out.

(the quote is from a beach boys song 'california saga'... the last word is 'liberty')

cheers, mike, for the gig
------------------------------------------------------------------------------------------------------------------------------------------------------------------------------
Easter Monday. Sooty and I walk across The Level at shadowy dusk, and climb the hill that is Southover Street till we reach "The Greys" pub.

A packed house - boys and girls of a certain age - a psychedelic community, if somewhat weathered - all awaiting a personal visit from living counterculture legend: Country Joe McDonald.

Managed to find a couple of seats (eventually) and sank a few swift pints of draught Guinness whilst waiting for the man (who i spied down front sipping Guinness too and wearing a fetching "peace" mandala from a string around his neck) - nice intimate venue.

Country Joe took the tiny stage a little before 9pm and entertained with the likes of "Not So Sweet Martha Lorraine", "Section 43" (an early solo version, apparently inspired by the late John Fahey and his vintage coffeehouse performances in and around the Bay area), "Janis" (dedicated to and written about the late Janis Joplin), "Here I Go Again", and the simple but optimistic "Peace on Earth".

Strong echo-laden and phased acoustic guitar, dominant bass strings, haunting harmonica figures, with an elegaic 12-string employed on a couple of numbers...

Some apocryphal stories from the old days: mostly involving Chicken Hirsh and the smoking of dried bananas - various run-ins with the law etc - some new songs lambasting Bush and the invasion of Iraq - one about lying in bed with his woman on a summer's morning with the breeze and the curtains - another one about whales - and the set climaxing, as you might expect, with a rousing version of "I-Feel-Like-I'm-Fixin'-To-Die Rag" (featuring Sooty on F-U-C-K cheer - well she would, wouldn't she?)